Paid Hadverteyesment
HERE YE!! HERE YE!! HERE YE!!
A Contest hinspyred an' ta be judg'd by thee Sultree Siren o'thee Seven Seize, nun otha than druppy-drawers 'erself, Cap'n pieces o'nine,to makes a despickible new minion fer yerself an' one fer thee Roight Disthhhpickible Black Barrrt.
Oi fownd a mowld for one 'ere:
http://minionslovebananas.com/minion-maker/
...but yer welcum to foind yer own sauce.
Yer downt needs to know what yer doin'... Oi used thee GIMP to nok up theez: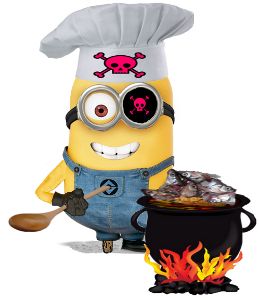 ...an' tawt meself a few new curses inta thee bargen figurin' it owt. So lads lettuce see wot yez got... karnt be too 'ard ta match thee professhunal [corf corf] figer'ead he's currantly sportin'.