RELIGIOUS AFFAIRS
AN INTERVIEW WITH HIS RIGHT HOLINESS THE DALAI LLAMA (Qwertyuiopasd)
Roight then lads, PlayBilge would like to publish the transcripts of an interview with his roight Right Holiness The Dalai LLama, leader of a new religious movement the Llamaists.
PB: Good Day yer wership.
DL: Good day to you too.
PB: So tell us a little bit about your movement?
DL: Well, we llamaists believe llamas are the ultimate life form. one thing I'd like to clear up before I go further is that we are still pastafarians. we do not mean to separate from the great religion, or alter it (much). we will be having alot of llama-thinking, and other types that once we edit and make everything good, will be released to the pastafarians for their philosophical reading pleasure. Now then, I can't really tell you more, other than the fact that I, the Dalai LLama, Commander Spitsalot, and Chief Inquisitor Waldpacastein (Don't worry, its just for finding out leaks of the secrets) are the highest members, and we are the only ones who shall ever go public about it. SO DON'T TRY TO FIND ANYONE OUT.
PB: What are your views on lootin, pillagin and murderin other pirates?
DL: Well, stealing (which I think encompasses looting and pillaging) is alright, as long as it doesn't hurt anyone. Ownership is void in our eyes, but stealing something someone needs (i.e. food or life support system) is just being a jerk, and is thus spit-upon.
PB: Does the Llama sect loike drinkin' rum?
DL: We're not against it, but I don't think many of us use rum. We do use other alcoholic drinks in some rituals.
PB: Have yer ever had a spin in the ARGHH 9000? Do Llamaists like speedy ships?
DL: Well I suppose that's really a personal thing. I enjoy going out on a good fast boat on a lake myself.
PB: We pirates loike to spit alot. Are there any tips yer can give us that will impress the ladies?
DL: Well there are two types of spitting. You have your typical spit, or your saliva spit, and then your mucus spit. A typical spit takes a bit longer to make, but can be made almost anytime. drinking before proceeding helps. Mostly you just have to move your tongue around in your mouth and make sure not to swallow, try pushing all the saliva to the front of your mouth. Then, when ready, get it at the tip of your tongue, right near your teeth, then just let 'er rip!
A disadvantage to these is that they take a really long time to make really big. Now your mucus spit is a much more powerful one, good for spitting on someone's shoes. of course, it can only be done with either a stuck up nose, or just one with a good amount of mucus. Breathe in/snort up, to get all the mucus in the back of your mouth. Again, try not to swallow, and get it to the front of your mouth, then fire. This one is easier because you only need to get the mucus once or twice, rather than a long constant generation. But then it can only be done at certain times.
YARRRR…Keep a raincoat handy!!
PB: You have been quoted as sayin' your mission is to defeat the Anti Llamaists. Who are these mongrels and when can us pirates cut 'em into little pieces?
DL: These people can be found at
http://my.execpc.com/~hench/all/
, or by googling "anti llama". We're planning an email onslaught. We'll let you help. Just practice those official emails.
PB: Oy've heard that despite your rumoured prudish ways, you Llamaists fully dig readin' PlayBilge. Is it true? Would you like to see a few Llama centrefolds in future?
DL: It is a personal decision, so I can't speak for all, but I know most of our Llamaists do enjoy PlayBilge, and a Llama centrefold would be lovely.
PB So there you have it lads. Pastafarianism has new, saliva lovin' friends the Llamaists. As the say back home 'Who's your Llama Mama'? Oim off ter practice me spittin' to impress the wenches. Yarrrrrrr…'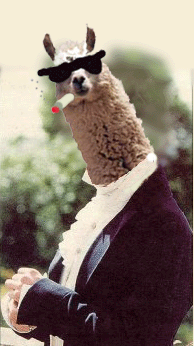 His Roight Holiness The Dalai Llama sendin' forth a blessing to 'is subjects