Moderator: All Things Mods
Conchigliette Convert
Posts: 1
Joined: Wed Jul 20, 2011 9:31 pm
Contact: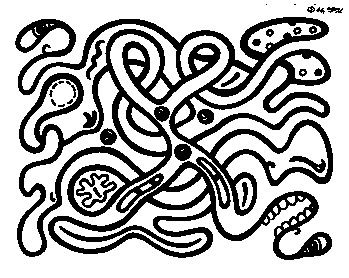 Abstract Spaghetti
sm'ART - the illusion-filled art of Kelin Kreider
See more at:
http://www.kelinsmart.com
---
Set bail, me hearties!
Posts: 4551
Joined: Tue Sep 02, 2008 4:50 pm
Location: Varrrrrrgggggghhhhhhinia
I have not yet been able to solve the maze. I like it, though!
Davros, Attorney and Pieces of Law
Keeping up appearances is a very important activity in religion; in fact, maintaining tattered illusions is its main activity. - Richard Wade, on Friendlyatheist.com
We make an idol of our fear and call it God. -Ingmar Bergman, The Seventh Seal
---
---
Return to "Art and Artistic Adaptations"
Who is online
Users browsing this forum: No registered users and 2 guests